The Sidecar Page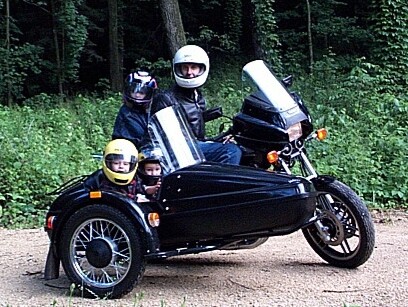 I've liked motorcycles for as long as I can remember. After our 1st kid, it still wasn't a problem to get around on a cycle. My daughter started riding when she was 3. But after we had twins, I needed to find a way to haul myself and 3 kids around. The truck just isn't much fun for errands. So I started looking around for a sidecar. I didn't want a Goldwing with a huge chair, I'm not that old yet. I wanted something light and inexpensive. I finally settled on a Velorex 520. I put it on a 1984 Honda Nighthawk 650. The installation was strait forward, but being my 1st it did take quite awhile. I decided to do it myself when I was told that the installation typically costs $600-$1000. After doing it, I understand the time involved.
My sidecar came from SCF Sidecars in Waterman IL (815-756-7001). Kurt Liebhaber has driven rigs forever, and was a lot of help in talking about how to get everything set up.
It's certainly a lot different than driving a 2 wheeler. But after a month or so I got it figured out pretty well. The rig is fine at 60 mph and below. It won't, however, pull 70 on the interstate all day. If I ever put another rig together, I'd probably start with a bike of about 1000 cc's. The rig had a terrible headshake, which I understand is pretty common. I built a steering damper using parts from a VW Beetle. That took care of about 95% of the problem.




Sidecar Links:
Sidestrider
Sidecar.com
John Dreuning's sidecar and GTS 1000 page